Please read this information, help yourself and help us prepare every detail of your holiday
FAQ: FREQUENTLY ASKED QUESTIONS
Am I a suitable cyclist for holidays?
In response to your request for information, we will send you a quick questionnaire: this will allow us to understand how often you use the bike, how many km you travel in a year, if you have ever followed training programs and much more. This will allow us to understand if this holiday is suitable for you or how we can to adapt it according to your cyclist profile.
What equipment is provided by Ital Cycling Promotion?
Shimano quick release road pedals
Helmet (optional if you don't bring your own)
Front and rear position lights
Charging of the electronic gear battery
If it is more comfortable for you, you can choose to bring your own pedals, saddle and helmet on the trip. Our mechanics will install your sets on the first day.
Your Ital Cycling Holiday Manager will meet you at the airport (if this is what has been agreed). You will be able to manage your cycling equipment with us and our mechanic will check your position on the bike.
After an initial briefing on the holiday program, safety and some tips for cycling in the area, we will do a first "warm up" ride.
If you arrive late for the meeting or if you cannot attend it, call us or inform us by email or Whatsapp.
You will receive an email one week before the start of the trip with the names of the staff members and contact details.
Our Holiday Manager will meet you at the hotel before 11:00 AM on the last day of your holiday to take your bike, bags and equipment. You will be transferred to the airport (if this is in the agreed plan).
How is a holiday/academy day organized?
The briefing follows the breakfast. Our staff will detail the route, the type and the planned stops (coffee or a panoramic point ideal for a photograph!), will remind the rules to be respected by bike to ensure your safety and not to obstruct road traffic, will distribute the maps and will collect the personal effects that you want to load on the support van. On the van, which will always be with you, there will always be food and drinks. Upon returning from your daily trip, you will be free to restore yourself with a snack we take care of, while the mechanic will look after your bike. We will then follow the holiday program, which could include an excursion, relaxation at the spa or in the pool, an aperitif or the professional analysis of the data produced by your workouts by our coach. If you like, the staff will dine with you, and will anticipate the next day's program.
Contact us for information on the local weather and the weather forecast. We will send you a list of clothing and items we suggest taking with you.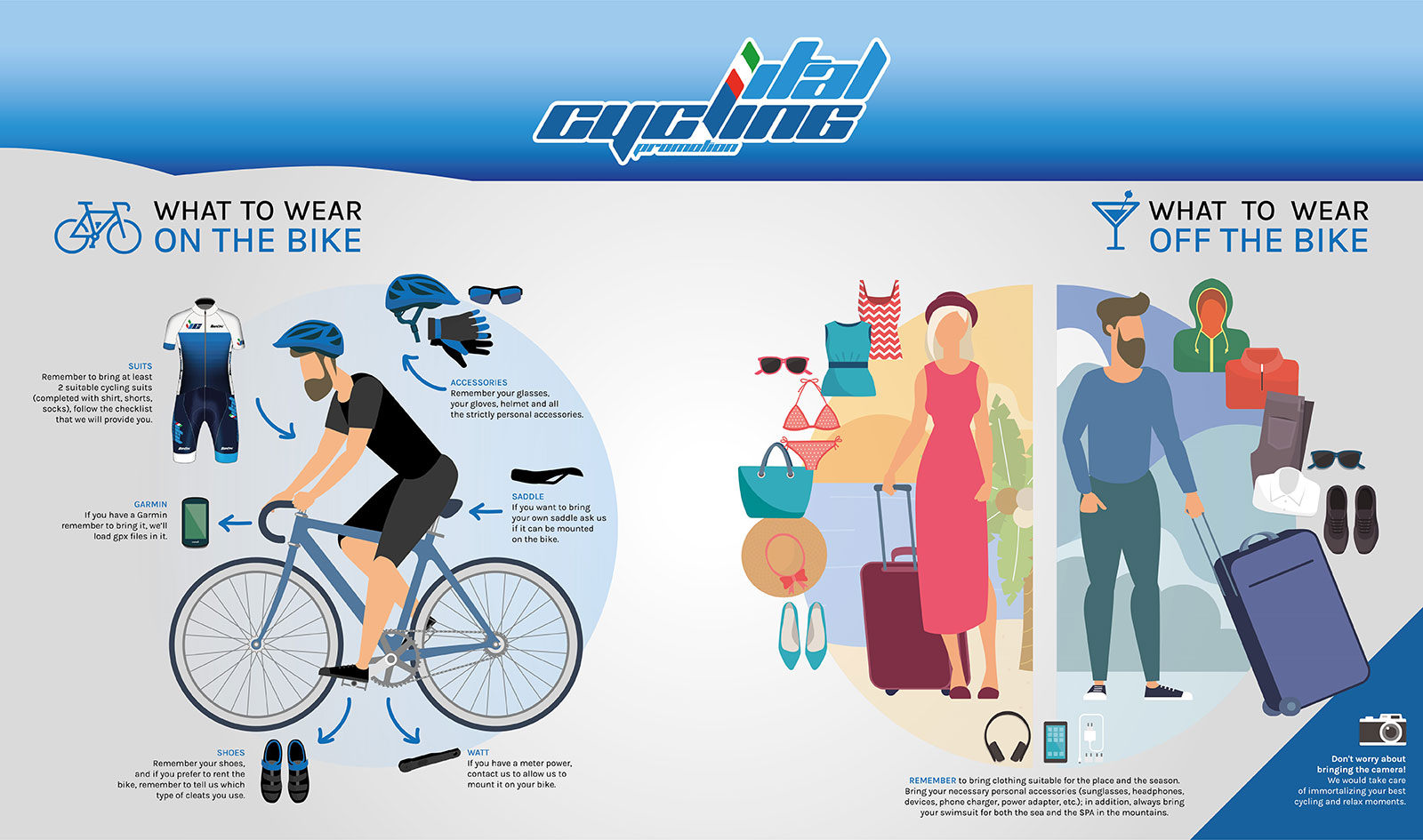 What if the weather is bad?
In the event of force majeure or bad weather, when it is not possible to ride our bikes or carry the planned activity, the staff will take care to anticipate any scheduled activity for the afternoon or for the following days, or arrange for an indoor training, as far as possible.
After sending you the booking confirmation email, we will contact you within a few days to complete the procedure. We will confirm the availability of bikes and rooms for the desired trip and finalize the booking once the travel deposit has been paid. If you make a booking more than 45 days prior to travel, a 30% of total amount deposit is due at the time of booking. If you book your trip 45 days or less before departure, the full balance is due at the time of booking.
What happens once I have booked?
When a trip is booked, a guest confirmation letter and e-mail are immediately sent out containing the travel meeting point and any other information you may need. A week before the start of your trip, you will receive a reminder email.
Our holidays require a minimum number of guests to run and are not guaranteed until that number is reached.
In the event that a package has a low number of registrations, we will notify guests 30 days prior to departure with the option to select a different date, for you holiday that has reached a higher number of bookings. If this is not possible, we will refund you. Please do not book your flight ticket before confirming your travel.
Remember that we can provide a private tour for a number of customers lower than the minimum number indicated on our website, at the page referred to the holiday package. As ask us for a quote.
What if I have to cancel my trip?
We understand things happen in life and sometimes you have to cancel or change your holiday plans.
Please read our
Cancellation Policy
.
Ital Cycling Promotion recommends that you purchase a travel protection plan to help safeguard you and your travel investment against the unexpected.
Cinelli Superstar bike insurance
For the use of Cinelli Superstar bicycles rented by Ital Cycling Promotion, the customer must sign a civil liability insurance, valid for the duration of rental.
On request we organize and quote solutions for non-cyclists. Contact us for more information.
Where can I find specific details about the destination, such as weather and terrain?
Can I take my children on an Ital Cycling holiday?
Sure. Cycling holidays can be tailored to your family's interests and capabilities. Contact us for more information.
How far in advance should I book?
We recommend that you book your trip at least 60 days before departure. Trips can become unavailable, so booking early or as soon as you can commit to travel with us, is the most reliable way to secure a place on your dream vacation. Subject to the availability of our staff and accommodation facilities, last minute bookings can be accepted up to one week before departure, whenever possible.
Of course! However, please note that we cannot take responsibility for the safety or damage to your personal bicycle. You are responsible for the maintenance of your bicycle and for any spare parts that may be used during the trip. You are also responsible for assembling the bicycle upon arrival and disassembling it upon departure, as well as all the shipping methods necessary to bring the bicycle to and from the trip.
I want to rent a bike, but I want it to respect my measurements.
After your booking you will be sent a graphic scheme to be filled with your measurements. This will be used by our mechanics to prepare your bike, which will be delivered to you with the fitting requested.
What kind of information is provided prior to travel?
When a trip is booked, a Guest Confirmation Letter is immediately sent. One week before the start of the trip you will receive an e-mail containing a reminder of the meeting point for the start of the trip and all the information you need to know before the trip. Once you arrive at your destination, our staff will show you the daily travel program and will provide you with a package containing daily guides and detailed maps.
What tip should I give to Ital Cycling staff?
Thank your guides by tipping! Tips for Ital Cycling guides are not included in the trip price. Please tip guides at your own discretion, based on their level of professionalism, guest care and service.
A first aid kit is always on our van following the group of cyclists.
CYCLING SAFETY
Your safety is most important to us.
On a cycling holiday, understanding and abiding by the rules of bicycling safety is the most important part of each day. Below are some of the common bike safety guidelines those that we follow, and we ask that you follow them while traveling with us, too. Our guides will remind you about how to ride in safety during your trip and are always a at your disposal for learning best-practices of riding a bike.
It is required to wear a helmet at all times when on your bike.
Obey all traffic signs.
Always use the appropriate signals when stopping, slowing and turning (these will be explained in the briefing).
Ride in a single-file line.
Communicate with other riders: signalling bumps, rocks, cars, or other hazards on the road by pointing them out physically or verbally.
Be careful on wet surfaces, especially when going downhill or crossing painted road lines, railway tracks or bridges. Stopping will take longer when roads are wet than in dry conditions.
Always get off the bike and walk if you feel uncomfortable while riding.
Do not use the mobile phone or camera, remove clothing, etc. while riding t. Do not use earphones.
It is not recommended to lead a group of cyclists with no previous experience, as this requires a sharper sense of awareness of other cyclists and of their own riding behaviour.
CANCELLATION POLICY*
| | |
| --- | --- |
| Days to Departure | Cancellation Fee |
| More Than 90 Days | No cost |
| 90 - 46 Days | 100% of the advance |
| 45 - 0 Days | 100% of the Trip price |
Our cancellation policy reflects the logistical complexity criteria of the events we offer.
To handle the clients reservations, Ital Cycling Promotion will have to plan and confirm the bookings in time to all the different suppliers for the actual number of participants. Some events involve different suppliers including hotels, restaurants, bike rentals, excursions etc. for which Ital Cycling Promotion undertakes to sign contracts which, in turn, include the so-called cancellation policies.
In the event that the event should be canceled due to failure to reach the minimum number of participants any deposit will be fully refunded.
In case of Lockdown due to Covid-19 the deposit will be refunded in full.
*We cannot make exceptions to this policy for any reason including personal emergencies, unexpected weather, natural disasters or terrorism. Trek Travel also reserves the right to cancel any trip at its own discretion if the safety of the travellers or staff should be compromised. In the event of cancellation, Ital Cycling Promotion is not responsible for any loss incurred for non-refundable travel costs. In this case, a refund of payments received by Ital Cycling Promotion will constitute the full and final settlement.
OUR ANTI-COVID STANDARDS. WE WILL ENSURE YOUR COMFORT AND SAFETY.
In our trips the maximum number of participants is 12.
Keeping you informed is important to us. We will communicate your group size 30 days before your trip and a week prior to your trip. We're always just a short phone call away for any questions regarding your trip or group size.
We will dine with your comfort in mind. Small groups or a private table? We are working with restaurants to create a dining environment that suits your needs and your experience.
Cleanliness
We are taking our standard cleaning to whole new levels with deep cleaning of equipment each day. This includes disinfecting all bikes and accessories.
We will be sanitizing our vans each day, particularly taking care of high touch points.
Our hotels, restaurants, and activity partners are working with us on extensive cleaning protocols.
Guests are requested to bring their own face masks and hand sanitizer. We will have some extra supply on hand.
Guides
Our travel guides will complete their own and your health check before every trip, including their temperature check.
Our guides will ensure to handle any food or bottles wearing gloves and mask.
Face Mask
When riding a bike, as for all sporting activities, the use of a mask is not required by current legislation. We will update guests on the prescribed norms in place at the time of the tour.
Face masks will be required during van transportation, for any indoor activities, or any place that does not allow for adequate social distancing.
Face masks must cover nose and mouth.
Guests are encouraged to bring a comfortable face masks that can be readily available while riding.
Hygiene during the trip
Guests and guides will be required to wear face coverings in vans, indoors, and any time that adequate social distancing cannot be guaranteed.
All guests and guides will have their temperature taken at the start of the trip.
All guests are encouraged to wash hands frequently.
We will have hand sanitizer available at all times.
Travel Healthy
Guests will receive a health questionnaire prior to trip departure. We ask that all guests let us know if they have been experiencing any Covid-19 symptoms.
Guests with any symptoms, are requested not to travel and to contact us for the rescheduling options.
If you or your travel partner have been exposed to Covid-19 within the last 14 days, please get tested prior to your trip. If tested positive, please contact us for your rescheduling options.